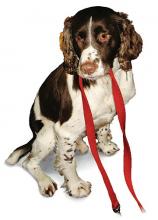 PETS: We welcome well-controlled pets in our new "pet friendly zone" (Dog Paw on the rates chart) for a charge of $30/night or $185/week. (or seasonal adult charge)
Many people are reluctant to place their pets in boarding facilities and often feel the "family" is incomplete without these four-legged members. They realize the difference between a good vacation and a great vacation can simply be the inclusion of family pets. Yet, finding a pet friendly resort can be very difficult, if not impossible.
In an effort to satisfy the needs of all vacationers, we have decided to set aside a special area dedicated to these trusted companions. We are excited to welcome well-controlled pets to our new "pet-friendly zone". The "zone" includes the point area of the resort as well as many wooded acres traversed by scenic hiking trails. Several specific cabins have been designated as pet friendly. Northern Lights, Pines, Sunset View, Moonbeam, Sunbeam and Aurora cabins will be available for vacationers with pets
No exceptions please, as other cabins must remain pet-free to protect individuals with allergies. We encourage use of the hiking trail beginning and ending at the trailer parking area for dog walking. Pet owners, please adhere to a few common courtesies while you enjoy your stay: use a leash, cleanup after your pet, and report any damage your pet may cause. We recommend use of portable kennels in cabins. Please do not bring dogs with barking, aggressive, or destructive tendencies. If your pet is causing any resort disturbance, we will ask that you utilize a local kennel to house it for the duration of your stay.