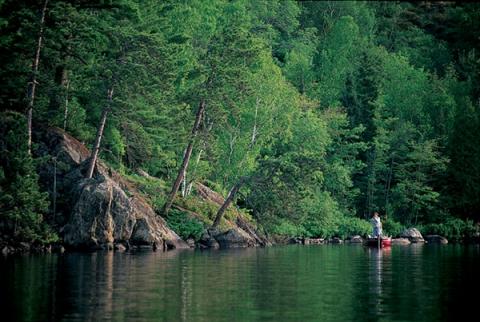 Lake Vermilion's clear clean water and warm summer winds are perfect for some of the best fishing and boating in Minnesota. Our extensive fleet of powerboats assures you enjoyment of our wondrous lake and surroundings.
Learn to sail, windsurf, water-ski, wake board, or kayak.
We ask that you do not bring personal watercraft (Jet Skis) to Pehrson Lodge.
2015 Season Rates
May 31- October 18 
Download our NEW DIGITAL BOAT BROCHURE (be patient, it may take up to 30 seconds to download - it's worth the wait!) to see nice large photos of both our rental boats & our complimentary boats!
BOAT AND MOTOR RATES
ITEM
4-HOUR
DAY
WEEK

Fish Locator

N/A
$10.00
$40.00

Electric Trolling Motor

N/A
$20.00
$80.00

25 HP Electric Start with 16 ft. Lund
Basic aluminum boats with four-stroke motors and bench seats. Trolling motors and depth finders can be added for a fee.

N/A
$80.00
$310.00

30 HP Deluxe Lund w/trolling motor
Deluxe Lund with four-stroke motor. Stern-mount trolling motor, casting chairs, live well and depth finder. 30 HP Lunds accommodate two fishing adults.

N/A
$115.00
$490.00

40 HP Deluxe Lund w/trolling motor
Deluxe Lund with four-stroke motor. Stern or bow mount trolling motor, swivel casting chairs, live well and depth finder. Accommodates 3 adults.

N/A
$135.00
$570.00

60 HP Crestliner w/ trolling motor and GPS
Crestliner with four-stroke motor, bow mount trolling motor, four swivel casting chairs, live well, GPS depth finder.

 

Boats w/o rented motor

$100.00

 

 

N/A

$165.00

 

 

$25.00

$725.00

 

 

$125.00

Premier Fishing Pontoon

22.5 ft Premier Pontoon w/ 70HP four stroke motor featuring 4 casting chairs, perfect fishing layout, live well and GPS depth finder.

$145.00
$240.00
$1025.00

Premier Pontoon boat
22.5-24 ft. Premier pontoon boats with 40-50 HP four stroke motors. These are very nice comfortable boats with canopies, live wells depth finders, new seats and new carpeting

$120.00
$195.00
$875.00

Camp Pontoon w/40HP Motor

This 24 ft. pontoon is used for kids' camp tours and is frequently available for rent. The camp pontoon is comfortable, but is an older boat without a canopy or depth finder.

$90.00
$140.00
$675.00

Fish & Ski w/90 HP motor
Fish and Ski with two-stroke motor. Bow mount trolling motor, live well, swivel casting chairs, and depth finder

$100.00
$165.00
$725.00

Fish & Ski Lund w/115-140 HP motor & GPS
Lund Fish and Ski with four stroke. Bow-mount trolling motor, fore and aft live wells, elevated swivel casting chairs, depth finder with GPS.

$125.00 (115HP)

$135.00 (140HP)

$200.00

$220.00

$950.00

$1025.00

 
 
Malibu Ski Boat, 340 HP, Includes driver, gas and ski instruction
$125/hour
Free use of kayaks, sailboats, hydro bikes, canoes, paddleboats & windsurfers
*Limited Number Available
Posted rates do not include gas and tax.  Customer is responsible for damage to boat, motor and equipment. No charge for launch and dockage of first personal boat per cabin.  Additional personal boats at $25/week.  ALL RATES SUBJECT TO APPROPRIATE MINNESOTA TAXES